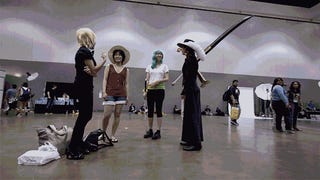 GIF
Luigi isn't just a jerk in Mario Kart 8, he's also started drive-by shelling cosplayers. How cruel!

I'm not gonna lie: Luigi's Death Stare is my favorite thing to happen in 2014 so far.
D Piddy of dancing Deadpool fame took to Anime Expo 2014 and shelled the hell out of half of your favorite animated characters. Sure, the meme is played — but good cosplay is good cosplay, and I won't pass up a chance to see Snow White and the cast of Kill La Kill get pelted in the dome with a giant foam shell.
Advertisement
Advertisement
To contact the author of this post, write to chrisperson@kotaku.com or find him on Twitter at @papapishu.