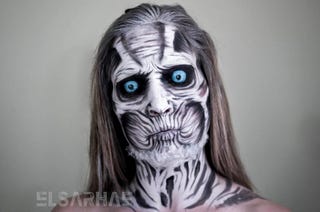 No babies were harmed in the making of this White Walker.
That's Elsa Rhae under all the make-up, proving once again that you don't always need a killer costume or prop to pull off some fantastic cosplay.

A traditional definition of cosplay, if such a thing even existed, would probably include some…
Here's a time-lapse of the transformation, which gets creepier the longer you stare at it.
You can see more of Elsa's terrific make-up work at her Facebook page (via neatorama).