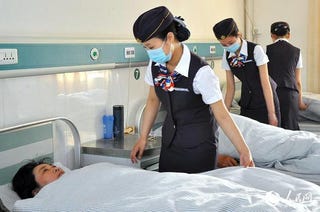 In the city of Huai'an, a group of registered nurses is now working at a local hospital, dressed as flight attendants.
According to CNTV and People's Daily, twelve nurses went through a one-month flight attendant etiquette training course. Instead of typical white outfits, these nurses actually wear flight attendant uniforms, while working at the hospital. (Their uniforms resemble China Eastern Airlines' outfits, and it appears as though they were trained by said airline.)
Advertisement
"The hospital's nursing department has long had thoughts about using flight attendant style service for the patients but it never materialised," head nurse Bu Haijuan told reporters.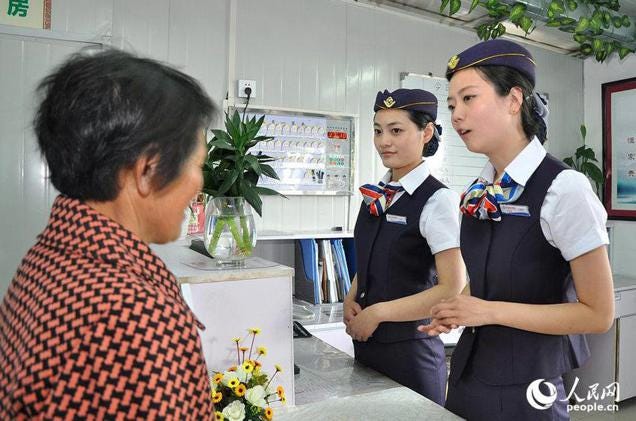 Initially, there were concerns that the program would get negative press, but the hospital moved forward with the idea this past March.
Advertisement
Advertisement
Back in 1930, the first female flight attendant was actually a nurse, so in that regards, this does make sense. I guess. Perhaps the idea is that, like the maid dental assistants, the flight attendant uniform is less threatening than a hospital uniform?

Afraid of the dentist? A Taiwanese dental clinic thinks it has a solution: hygienists decked out in …
According to the Chinese media, the concept was to improve the quality of nursing at the hospital. Flight attendants are seen to have good manners, and this hospital hopes that those manners will help make the patients' experience better.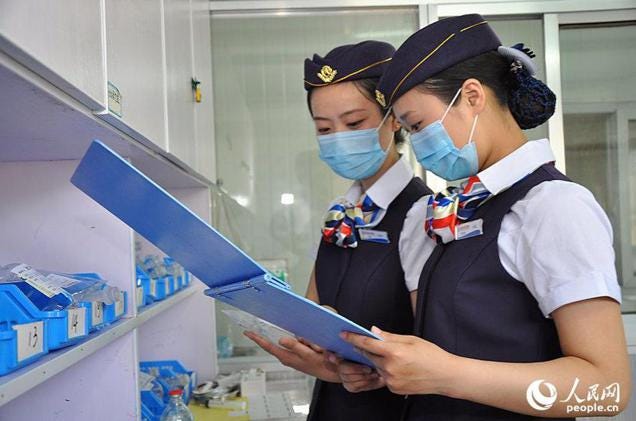 This wasn't an easy program to make happen.
Advertisement
"It was a surprise to us that only three nurses signed up for this at the get go. I guess many of the nurses lacked self confidence as the selection process was known to be rigorous," said Bu.
The other nine were selected by their age, height, and appearance. It's not exactly clear whether or not those flight attendants, I mean nurses, actually had a right of refusal.
Advertisement
"While all twelve nurses still haven't perfected the mannerisms of flight attendants," said the head nurse, "they do look like them."
江苏一医院要求护士穿空姐制服上班(图) [CNTV]
Advertisement
江苏淮安一医院护士穿空姐制服上班 身高都超163cm [People's Daily]
Advertisement
Eric Jou contributed to this report.
Video: Sina Premium
To contact the author of this post, write to bashcraftATkotaku.com or find him on Twitter @Brian_Ashcraft.
Advertisement
Kotaku East is your slice of Asian internet culture, bringing you the latest talking points from Japan, Korea, China and beyond. Tune in every morning from 4am to 8am.