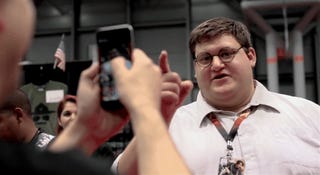 GIF
Real Life Peter Griffin, the world's greatest Peter Griffin cosplayer and impersonator, hit the big time last year. Now he's back, and we get to meet the man behind the man.

The 2014 Allentown Comic Con played host to a very special guest: Family Guy's Peter Griffin…
This video, shot by BOOM! Big Pants, documents Peter's (real name: Robert Franzese) visit to the New York Comic Con last year, and we get to see both Peter and Robert just hanging out and enjoying the show as not just a cosplayer, but one who steals the show everywhere he goes (and opens his mouth).
Other posts you may like:

Over the weekend, photographer Sacha Goldberger took part in an exhibition at the Grand Palais in…

*coughs, sips water* Good news, everyone!