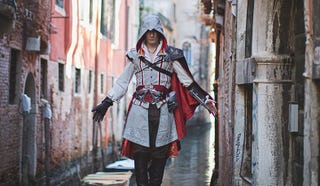 Ezio, is that you?
Superstar cosplayer Leon Chiro is no stranger to top-shelf Assassin's Creed cosplay, but this latest venture is easily his best yet.

Some of the hihglights from this week's roundup: a Digimon reunion, vintage Lara Croft, some…
Not just for the costume — though it is a fantastic replica of Ezio's outfit — but for the complete package. Chiro (who is Italian) went and shot on location in Rome, Venice and Florence (three cities featured in Ezio's games), teaming up with Simone Chierici and Marcella Fava to record the whole thing with both video and photos.
Advertisement
Advertisement
The result is a trip that's as close to a real Ezio as we're going to get without a time machine.
You know, for a video that's all about cosplay, and not parkour, that's a pretty impressive wall-climb Leon's got going there.